Both companies and the Federal Agency for Employment have been observing the shortage of skilled workers in Germany for a long time. The federal government has taken measures to counteract this issue in a specific way. One of the first approaches to solve this issue was the positive list (WHITELIST), which is called the understaffed professions in the labor market of Germany. On this basis, specialists should be recruited from abroad specifically. Through the skilled workers immigration act, the positive list was finally abolished and access to the German labor market was further simplified for foreign job-hunters. Germany needs foreign skilled workers – Germany needs YOU!
Understaffed professions
The shortage of skilled workers in Germany exists mainly in the so-called understaffed professions in different fields of natural science, mathematics, engineering, medicine and the IT industry as well as in the fields of construction, care and nursing, crafts and trades, services, transport and etc. Currently and due to the corona pandemic, there is an increased demand for specialists from the health and care fields.
But how do these understaffed occupations or this bottleneck situation come to existence? A job bottleneck exists when an open position is difficult to fill. This means that if a vacancy is not filled in the desired date, this occupation is included in the statistics of understaffed occupation. This leads to a bottleneck because labor supply and labor demand do not get together or get together with a delay, i.e. when there are significantly too few workers available for the occupations. This situation happens in Germany because unemployment rate is low in Germany and there are full-time employments in many regions.
Positive for foreign professionals
Over half of companies in Germany see the shortage of skilled workers as a risk factor. Without an aimed immigration from abroad, it is estimated that there would be around 30% fewer labor forces in 2060 than today.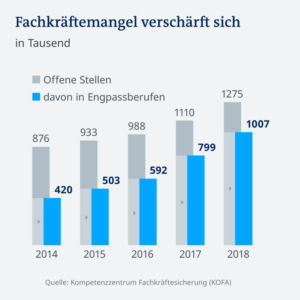 In response to this issue, the skilled workers immigration act came into force in March 2020 and also the definition of skilled workers was expanded. Now, in addition to university graduates, employees with qualified professional trainings are also counted as skilled workers, without any restriction. This means that both university graduates and employees with qualified vocational training are granted access to the German labor market. In addition, the six-month visa for job search is extended and is not only granted to skilled workers with a university degree. In addition, there is the waiver of a priority test in case of recognized qualifications and having a job offer in Germany. As a result, the lawmaker has simplified the visa procedure and the recognition of foreign qualifications. According to the new regulations, prospective students and those interested in training can enter the country to look for a training position. Furthermore, the opportunities to stay for qualification measures in Germany are being expanded.
The current Understaffed professions (a part):
Engineers, vehicle, aerospace, shipbuilding technology (experts)
Trained assistants in mechatronics and automation technology
Specialists in mechatronics and automation technology
Power engineering specialists
Specialists in building construction
Civil engineering specialists
Specialists in construction, drywall installation, insulation, carpentry, glazing, roller shutters
Trained assistants in plumbing, sanitary, heating, air conditioning
Specialists in plumbing, sanitary, heating, air conditioning
Experts in IT system analysis, users, IT sales
Expert in software development, programming
Skilled workers monitoring, maintenance of transport infrastructure
Specialists in driving vehicles in rail transport
Trained workers in medical and practical medical help
Trained workers in health, nursing, ambulance service, obstetrics
Specialists in health, nursing, ambulance service, obstetrics
Physicians and dentists (experts)
Specialists – Non-medical therapy and healing arts
Pharmacy experts
Elderly care professionals
Elderly care specialists
Body care specialists
Trained workers in medicine, orthopedics and rehabilitation technology
Specialists in medical, orthopedic and rehabilitation technology
Specialists in driving education, physical education and extra-curricular education