The industry is less affected by the new lockdown. It recorded another growth and increased the production rate by 0.9% (Dec. 2020). The labor market is also still stable. "Altogether, the labor market was still in robust shape in January," said the chairman of the Federal Employment Agency (BA), Detlef Scheele (January 29, 2021, press conference in Nuremberg).
Despite the partial lockdown, industrial production continued to rise in November, as did the new orders in the manufacturing sector. This indicates that the industry – unlike in spring – has so far been less affected by the pandemic.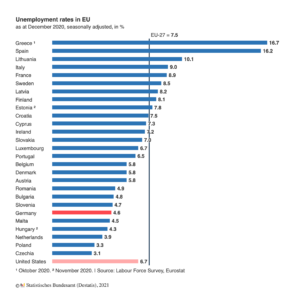 Employment rate has recently continued its slight upward trend that has been observed since the summer. Unemployment and under-employment rate continued to decrease in seasonally adjusted statistics. The unemployment rate in January was only 6.3%, which is significantly lower than the EU average. Based on the seasonally adjusted unemployment rate for December 2021, Germany is among the top 5 countries in the euro area with 4.6% (eurostat).